School Bus Crash Occurs in Monroe County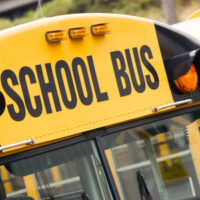 Tellico Plains, TN (November 5, 2020) The Tennessee Highway Patrol reports that a school bus crash occurred in Monroe County early on the morning of November 5th. The accident occurred on Wilson Station Road close to Red River Road. Several students on the bus are reported to have incurred non-life threatening injuries and were transported to receive medical care. Fortunately, no students are reported to have been seriously injured in the accident. The bus driver was also not injured in the accident. Additional details about the accident including what caused it are still under investigation.
The National Safety Council has found that in 2018 there were 4,000 school bus passengers injured in bus crashes. This might seem like a high number, but approximately 25 million elementary and secondary school children ride school buses both to and from school. Some of the most common reasons why school bus crashes occur include negligence by bus drivers who fail to take the vehicle's large size and weight into consideration, other negligent or reckless drivers on the road, and adverse weather conditions like rain and snow. Due to their size and weight, bus accidents are almost always more devastating than those involving smaller vehicles.
Speak with an Experienced Tennessee Bus Crash Lawyer                 
When bus crashes occur, victims often find themselves facing many challenges including injuries of both a physical and mental nature. As a result, if someone else caused your bus accident, you should not hesitate to pursue compensation. Schedule a free case evaluation with a compassionate attorney at Fox, Farley, Willis & Burnette today.
Note: This post was written based on available resources, news stories, and online reports about this incident. As is often the case with fast breaking news, there is always the risk that some details are still being shared and uncovered. Please contact us if you notice any information that should be changed or added. Thanks!