School Bus Crash Occurs in Cumberland County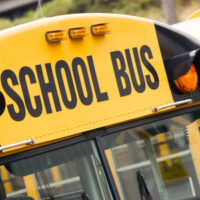 Cumberland County, TN (December 11, 2020) The Tennessee Highway Patrol reports that an accident occurred around 3 p.m. on December 11th involving a school bus on Highway 70 North in Cumberland County. The driver of a Honda Accord was traveling east and stopped behind other vehicles when he was rear-ended by a school bus. Fortunately, no students were on board the bus at the time of the collision. The Honda's driver incurred minor injuries as a result of the accident. The bus driver was later charged with failure to exercise due care.
A 2012 study published in the Journal of Safety Research found that bus accidents represent a comparatively small portion of the total vehicle accidents that occur in the United States. The study also identified characteristics of bus drivers who are involved in accidents. First, younger and more inexperienced bus drivers increase the chances of accident severity. The study also found that bus drivers over the age of 65 also increase the chances of injuries.
Obtain the Services of a Compassionate School Bus Accident Lawyer
Due to their significant size and weight, school bus accidents commonly result in substantial injuries, significant property damage, and other serious consequences. Additionally, because seatbelts are not required on school buses, occupants lack the same type of protection that passenger vehicle motorists have when collisions occur. If you or a loved one is injured in a school bus accident, you should not hesitate to promptly contact an experienced accident attorney. Contact Fox, Farley, Willis & Burnette today to schedule a free case evaluation.
Note: This post was written based on available resources, news stories, and online reports about this incident. As is often the case with fast breaking news, there is always the risk that some details are still being shared and uncovered. Please contact us if you notice any information that should be changed or added. Thanks!