School Bus Crash in Putnam County Results in Arrest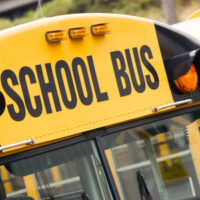 Putnam County, TN (January 27, 2021) Students avoided injuries in Putnam County on January 27th following an accident. Law enforcement reports that the driver of a school bus was headed east on Industrial Drive close to the Pruitt Street intersection when he activated his stop sign, came to a rest, and began offloading children. The driver of a Ford Explorer was traveling behind the school bus and due to unknown reasons collided with the bus. Fortunately, no children nor anyone else was injured in the accident. The driver was charged with driving under the influence, failure to exercise due care, seatbelt offense, possession of drug paraphernalia, simple possession of a Schedule 2 drug, violation of the financial responsibility law, and introduction of contraband into a penal facility.
Among the people injured in school bus-related crashes between 2008 to 2018, approximately 36% were school bus passengers, 8% were the drivers of school buses, and 51% were the occupants of vehicles other than school buses. One of the best things that motorists can do to avoid rear-ending school buses is to allow greater following distance when traveling behind so there is ample room to stop when the bus's lights begin to flash.
Let a Seasoned Personal Injury Attorney Fight For You                
School bus accidents are often traumatic in nature because children are involved. If your child or loved one has been injured in a school bus crash and someone else is responsible, you should not hesitate to speak with a knowledgeable lawyer. At Fox, Farley, Willis & Burnette, we are focused on fighting for the results that accident victims deserve. Contact us today for assistance.
Note: This post was written based on available resources, news stories, and online reports about this incident. As is often the case with fast breaking news, there is always the risk that some details are still being shared and uncovered. Please contact us if you notice any information that should be changed or added. Thanks!