Road Debris is a Deadly Hazard on the Roads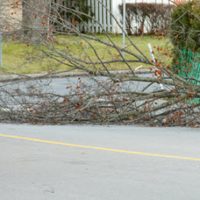 When you are behind the wheel, you probably look out for other drivers, who may run stop signs, go too fast, or simply drive recklessly. But what you may not look out for, is debris in the roadway, a danger that is ever present, and which causes more car accidents than you may think.
Road Debris Accidents are Common
According to the American Automobile Association (AAA), there are about 200,000 accidents on American roads that are caused to some extent by debris on the roads.
Not all of those crashes involve contact between debris and another car. In fact, AAA found that just under 40% of crashes were caused when a driver had to swerve to try to avoid road debris, causing an accident. That's called overcorrection.
When Do Road Debris Accidents Happen?
Most crashes happen in broad daylight, generally between 10am and 4pm, a time when many trucks or haulers are moving debris and heavy items, like branches, foliage, furniture, lumber, or other cargo that can easily fall out of a truck bed. Higher speed roadways like interstates make debris much more likely to spill out because the forces of the vehicle are stronger, thus pushing poorly secured loads out of vehicles.
Most debris related crashes come from unsecured or poorly secured loads on the backs of cars or trucks. But debris can also be from the vehicle itself, such as when a part falls off of an older or poorly maintained vehicle.
Tires and "Road Gators"
Tires are a big culprit—in fact, some states use the phrase "road gator," which doesn't refer to an actual alligator, but rather, those large pieces of tire or tire tread that you often see just sitting in the roadway. These tire pieces often come from larger trucks or vehicles whose tires have blown out because the tires were not properly maintained.
Tire debris from a larger truck can weigh as much as 100 pounds, and to make them heavy duty enough to carry trucking loads, many truck tires have metal wiring inside. This makes these truck tire "road gators" large and significant objects to hit when a car is going at full speed.
If the impact with the tire debris doesn't cause an accident it is likely to blow out your tires if you hit the debris, potentially causing you to veer off the road.
Worse, impact with a tire, or a part of it, at a higher speed, can cause a vehicle to go flying in the air, making it a deadly accident—there are no shortage of youtube videos showing what happens when a car hits a tire at high speeds.
Many trucking companies don't inspect tires, replace them, or they allow drivers to drive on underinflated tires, all which can lead to blowouts and tire treads on the roads.
Have you been injured by debris on the roadway? We can help you determine who may have been liable-even if you don't know who left the debris in the road. Call the Knoxville personal injury lawyers at Fox Farley Willis & Burnette, PLLC, today.
Sources:
news.aaa-calif.com/news/new-aaa-foundation-study:-200-000-crashes-caused-by-road-debris
usatoday.com/videos/news/have-you-seen/2023/03/27/car-flips-after-being-hit-loose-tire-los-angeles-freeway/11548807002/