Road Construction Work Hit by Side Mirror in Cumberland County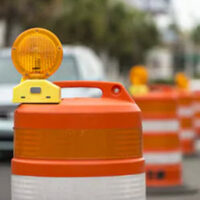 Cumberland County, TN (July 29, 2020) A road construction worker in Cumberland County was nearly injured on July 29th after he was struck by a side mirror on a vehicle. Law enforcement responded to Old Mail Road where the work told them that he had just finished loading a skid steer, got off a trailer, and was struck by the side mirror from a vehicle. The driver told law enforcement that she didn't know that the office was struck, but heard a bang following the collision and believed the noise came from the construction site. It remains uncertain if the driver received a citation.
It is critical that all Tennessee motorists who drive through work zones exercise the highest degree of caution. The site WorkZoneSafety.org reports that in 2018, there were 19 fatal crashes in Tennessee work zones.
Why Car Accidents Occur in Work Zones 
There are several reasons why work zones are a dangerous place for vehicle accidents, which include:
Most traffic flows remain consistent day to day, but this is not the case with construction zones. Instead, in work zones, traffic patterns often change regularly.
In construction zones, workers use large trucks and other vehicles to repair and construction stretches of road. These vehicles often move slowly, stop suddenly, and move in unpredictable ways that cannot be anticipated by other drivers.
Speed limits in work zones often fluctuate. If drivers are not careful, they might end up driving too fast for the work zone's conditions, which could lead to accidents.
Workers in construction zones often perform repair or construction close to through lanes of traffic. When passenger vehicle drivers are distracted, they can end up striking workers.
Speak with a Knoxville Car Crash Attorney 
Each year, many people are injured in car accidents that occur in Knoxville and the rest of Tennessee. If you need the assistance of an experienced accident attorney, do not hesitate to contact Fox, Farley, Willis & Burnette today to schedule a free case evaluation.
Note: This post was written based on available resources, news stories, and online reports about this incident. As is often the case with fast breaking news, there is always the risk that some details are still being shared and uncovered. Please contact us if you notice any information that should be changed or added. Thanks!