Road Closed After Knoxville Power Pole Accident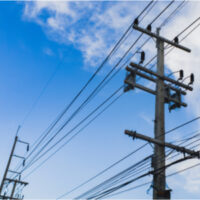 Knoxville, TN (September 16, 2020) Both directions of Knoxville's Dean Hill Drive were closed on September 16th after a single vehicle accident resulted in the downing of a power pole. Based on a report provided by Knoxville law enforcement, the road will stay closed until the Knoxville Utilities Board can perform repairs to the pole as well as wires that were down by the accident. Additional details about the accident are currently unavailable including what caused the accident and whether any injuries resulted from the crash.
The Insurance Information Institute of Highway Safety has found that utility poles are the second most commonly struck object on the road and resulted in 899 deaths in 2018 due to fixed-object car crashes. This constitutes 12% of deadly fixed-object collisions.
What To Do If Your Vehicle Strikes a Utility Pole 
If your vehicle strikes a utility pole, there are some helpful strategies that you should follow to make sure you remain safe and avoid becoming a fatality. These tips include:
Realize that often times after utility pole collisions, the safest place is inside the vehicle. If you step out of the vehicle sometimes, you risk electrocution.
Remember that power lines do not always show signs of life. Each year, people are killed by making this mistake and touching power cables that appear inactive.
Warn others who might come near your car to help ensure that they stay away.
Speak with an Experienced Car Accident Attorney
Regardless of how your Tennessee car crash occurred, it is common to be left uncertain about how to proceed after an accident. If someone else's negligence led to your crash, realize that you have a right to pursue compensation. Contact Fox, Farley, Willis & Burnette today to schedule a free case evaluation.
Note: This post was written based on available resources, news stories, and online reports about this incident. As is often the case with fast breaking news, there is always the risk that some details are still being shared and uncovered. Please contact us if you notice any information that should be changed or added. Thanks!