Risks And Liability For ATV Accidents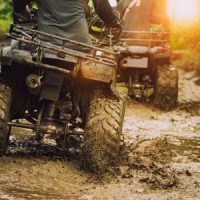 Recreation is supposed to be fun, but in some instances it can be dangerous. Things like speed, adventure, and different terrain can hold excitement for the mere fact it is dangerous. Such is the case with a very popular activity, particularly in the Tennessee mountains: riding on an all terrain vehicle, or ATV.
The Dangers of ATVs
ATVs carry some inherent dangers. On the one hand, they are supposed to be ridden over rough, bouncing, and uneven terrain, terrain that even your typical car couldn't traverse. But despite the fact that these vehicles are supposed to go over dangerous terrain, they have a frightening lack of security devices on them.
Most ATVs may have no doors or windows. They do not have airbags. They may not even have the same pedal mechanisms as cars. Many ride high up, where the center of gravity can make them prone to tipping.
Causes of Accidents
ATV accidents can have a number of causes, each of which may impact your ATV lawsuit differently. The first is where an ATV, operated by someone else, causes you injury. If this happens, one question to ask is: who was operating the negligent ATV?
This sounds like an obvious question, but in many cases, parents let underage children, or people who have little or no training, use an ATV. They then lose control, and cause either someone in another ATV, or a pedestrian, serious injury.
Sadly, many people see ATV usage as an invitation to be reckless, or to speed, or to treat ATVs like they are bumper cars. This kind of behavior is negligent, and you can certainly sue someone who injures you because of reckless driving. The same holds true if you are a pedestrian—often, ATV operators will exhibit little regard for people on foot.
Because ATVs are associated with fun and recreational outings, they unfortunately too often can also be associated with alcohol, and driving under the influence. Many riders often overload the ATV, with more passengers or occupants than the vehicle is designed for.
Strict Liability and Design Defects
Many times ATVs are negligently designed—that is, there is a product liability claim. This is often the case when only one vehicle is involved in an accident, such as when an ATV rolls over.
Some time ago, many ATVs were designed with three wheels. After being sued for product liability, manufacturers realized this was an inherently dangerous design, and started eliminating these 3-wheel ATVs.
Many ATVs are sold without safety features, or in ways that make them even more unstable than they actually are. An expert may be needed to look at the ATV, and to see if there was a mechanical failure, or some fault in the design itself, that caused or contributed to your injury.
Call the Knoxville personal injury attorneys at Fox Willis Burnette, PLLC, today if you are injured in an ATV accident.