Phillips CPAP Devices Are The Subjects Of Class Action Products Liability Lawsuits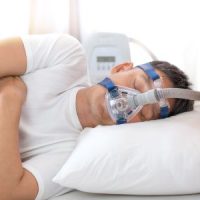 Millions of Americans suffer from sleep apnea — commonly known as "snoring." Sleep apnea can be dangerous, but even when it isn't dangerous, the effect on people's lives is devastating, given that they cannot have a full, restful night's sleep.
Using a CPAP Device
One solution to sleep apnea is what is known as a CPAP device. A CPAP device is worn over the head during sleep, and opens the person's airways, preventing the collapsing airways that contribute to apnea. CPAP machines don't exude any substance or material or substance, they do not provide any medicine; they simply create an airtight seal around the user's head and open the user's airways.
The Problem with CPAP Devices
People use CPAP devices when they sleep, which means the devices have to be silent. To allow for that silence, the devices use a type of polyurethane foam.
The problem is that over time, this foam degrades (a process that is accelerated by cleaning devices, temperature, and other environmental factors) and when it does, it can be inhaled during sleep, and foam particles can enter the airway of the user. CPAP "DreamStation" manufacturer Phillips has already admitted to this, and now, Phillips is being sued for this defect in numerous class action lawsuits.
The exact same problems have been found in ventilators manufactured by Phillips, although it is estimated that only 20% of the cases involve ventilators.
Phillips is also being sued by suppliers who bought the Phillips machines, who say that Phillips failures cost them money when they were then unable to sell or resell the defective devices.
Symptoms of the Defective Devices
As of today, it seems that users of the devices may have suffered the following symptoms, diseases, or consequences:
Breathing and airway irritation, including respiratory disease
Dizziness, or headaches (including migraines)
Sinus problems, including sinus infections
Internal damage, including damage to kidneys or the liver
Exposure to the broken down chemicals is believed to have been a contributing factor in various types of cancer.
Class Action Lawsuits Begin
Numerous lawsuits have been filed, alleging that the company that made the devices, Phillips, knew of the dangers, yet failed to warn the public of these risks. The devices, according to the lawsuit, were not recalled by Phillips, until the Summer of 2021. That means the lawsuits aren't just for the liability in manufacturing defective products—they also relate to the company's alleged failure to act quicker in informing the public of potential harm.
The cases are still relatively new, and thus, it is unknown what courts and juries will do with the many lawsuits that have been filed. But if you have used a CPAP from Phillips, and have had any of these symptoms, it may be time to explore your legal options, as you may be able to file your own lawsuit, or obtain compensation from existing class action lawsuits, for your injuries.
Call the Knoxville personal injury lawyers at Fox Farley Willis & Burnette, PLLC, today.
Sources:
newyork.legalexaminer.com/health/plaintiffs-file-two-new-lawsuits-claiming-philips-failed-to-warn-about-cpap-dangers/
retailconsumerproductslaw.com/2022/03/recall-litigation-report-philips-faces-supplier-class-action-following-cpap-bipap-recall/