Person Flown to Trauma Center After Car Struck By Train in Rhea County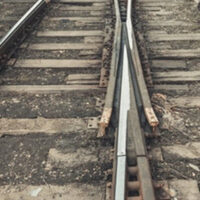 Rhea County, TN (August 3, 2020) Dayton law enforcement reports that a vehicle was struck by a train on August 3rd at the intersection of Railroad Street and Iowa Avenue. Initial reports state that one person inside the vehicle was flown to a nearby trauma center for treatment. Law enforcement states that railroad crossing bars were down at the time of the accident. A full report will be released by the Dayton Police Department at a later date.
Operation Lifesaver reports that in 2019 there were 2,216 vehicle collisions with trains that resulted in 293 fatalities and 807 injuries.
How Car Drivers Can Avoid Train Accidents 
Some of the helpful strategies that drivers can follow to avoid collisions with trains include:
Avoiding racing trains to crossings because trains move faster than they appear.
Never drive around lowered gates, even if you cannot see a train.
If you happen to get stuck on the railroad tracks while passing a cross, you should immediately exit your vehicle. You should also contact law enforcement so nearby trains are made aware of your position and so that other motorists are made aware.
Remember that trains require even more distance to stop than commercial trucks.
Retain the Services of a Skilled Knoxville Car Accident Lawyer 
Due to their immense size and weight, when vehicles end up in accidents with trains, the occupants of the smaller passenger vehicle are often seriously injured or killed. If you've been involved in one of these accidents and someone else is responsible, contact Fox, Farley, Willis & Burnette to schedule a free case evaluation.
Note: This post was written based on available resources, news stories, and online reports about this incident. As is often the case with fast breaking news, there is always the risk that some details are still being shared and uncovered. Please contact us if you notice any information that should be changed or added. Thanks!