Pedestrian Killed in Montgomery County Crash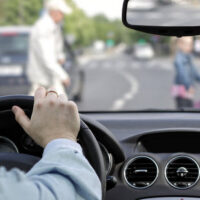 Montgomery County, TN (January 10, 2021_ A pedestrian was killed in a vehicle crash on the evening of January 10th on Interstate 24 in Montgomery County. The accident occurred shortly after 9 at night close to Dixie Bee Road. The Tennessee Highway Patrol has confirmed the death. As a result of the accident, the eastbound lanes of Interstate 24 are closed, but these lanes are expected to reopen at midnight. Additional details including what caused the crash remain uncertain.
The Centers for Disease Control and Prevention have found that in 2017 there were 5,977 pedestrians who were killed in traffic crashes that occurred in the United States. This means that one fatality in the United States occurred every 88 minutes. Additionally, approximately 137,000 pedestrians were treated in emergency departments for nonfatal crash-associated injuries in 2017. To avoid the risk of being struck by a motor vehicle, there are fortunately several helpful steps that pedestrians can take. One of these precautions is to only cross roads in designated areas. It is also a good idea for pedestrians to make sure to wear clothing that can easily be spotted by motorists. 
Speak with a Compassionate Tennessee Personal Injury Lawyer                 
If you or a loved one is injured in a Tennessee car crash, you should not hesitate to speak with an experienced attorney. At Fox, Farley, Willis & Burnette, our attorneys understand the countless complications that can arise from car accidents and remain committed to fighting for the results that accident victims deserve. Contact our law office today to schedule a free case evaluation.
Note: This post was written based on available resources, news stories, and online reports about this incident. As is often the case with fast breaking news, there is always the risk that some details are still being shared and uncovered. Please contact us if you notice any information that should be changed or added. Thanks!