One Person Killed, Two Injured in Interstate 75 Car Accident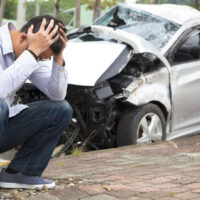 Loudon County, TN (August 9, 2020) A single vehicle accident occurred the morning of August 9th on Interstate 75 in Loudon County that killed one person and injured two others. Law enforcement reports that a Buick LeSabre lost control at the 68 southbound mile marker, collided with a sign, and collided with a culvert. As a result of the collision, the vehicle was launched into the air, which resulted in two of the passengers being ejected from the vehicle. One of the passengers was killed from the ejection, while two others in the vehicle were flown to the University of Tennessee Medical Center for treatment. Law enforcement states that charges are currently pending against the driver.
The Insurance Information Institute reports that in 2017, there were 2,443 deadly car collisions in which a vehicle collided with a culvert, curb, or ditch.
The Most Common Causes of Vehicle Ejections 
The primary reason why people are ejected from vehicles is that either the driver or passenger fail to wear a seat belt. When vehicle riders decline to wear a seat belt, the force that results from colliding with another vehicle or a stationary object can lead to an ejection. Some of the other causes of vehicle ejections include:
Damaged or defective side windows
Door latches that fail to keep doors shut
Seat belts that fail to work properly
Speeding at excessive rates at the time of the collisions
Vehicle rollovers
Speak with a Knoxville Car Accident Attorney 
If you or a loved one has been injured in a car accident in Knoxville or any other nearby area, do not hesitate to speak with a knowledgeable attorney. Contact Fox, Farley, Willis & Burnette today to schedule a free case evaluation.
Note: This post was written based on available resources, news stories, and online reports about this incident. As is often the case with fast breaking news, there is always the risk that some details are still being shared and uncovered. Please contact us if you notice any information that should be changed or added. Thanks!