One Person Killed in Fiery Dolly Parton Parkway Accident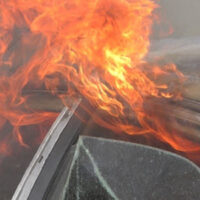 Knoxville, TN (March 15, 2020) – Sevierville law enforcement reports that a man recently passed away as a result of a collision. According to law enforcement, a motorist was traveling on Dolly Parton Parkway when she collided with another vehicle that was stopped at an intersection. A Sevierville law enforcement officer saw the first vehicle traveling at an accelerated speed and was prepared to perform a pullover at the time the accident happened. Unfortunately, because law enforcement officers were unable to save him in time from the wreckage, the driver of the stopped vehicle was killed. The driver of the speeding vehicle has since been arrested and charged with driving under the influence and vehicular homicide. Additional details about the accident are still being investigated by law enforcement.
The Danger of Vehicle Fires
Data compiled in the U.S. Fire Administration National Fire Incident Reporting System reveals that each year from 2014 to 2016, approximately 171,500 highway vehicles in the United States caught fire resulting in an annual average of 1,300 injuries and 345 deaths. This might seem like a small number, but motor vehicle fires are a serious occurrence that often result in fatalities or life-changing injuries. While vehicle fires can result from high-speed collisions, they can also be caused by other factors, such as defective fuel lines. The victims of these accidents are often left to face large medical bills, lost wages, and many other hardships. If you or a loved one is involved in an accident in the Knoxville area, do not hesitate to contact an experienced car accident attorney at Fox, Farley, Willis & Burnette to schedule a free case evaluation.
Note: This post was written based on available resources, news stories, and online reports about this incident. As is often the case with fast breaking news, there is always the risk that some details are still being shared and uncovered. Please contact us if you notice any information that should be changed or added. Thanks!