One Person Injured at Explosion By Lincoln Memorial University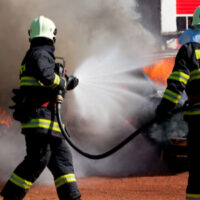 Harrogate, TN (September 1, 2020) A company working on a new road into Lincoln Memorial University was performing blasting work near a hillside behind the Hamilton Math and Science building on September 1st when something went wrong. The force of the explosion pushed debris into vehicles located in a nearby parking lot. A hole in the side of a building was also created by the explosion. At least one person, who was a member of the work, was injured. It remains uncertain if any students or staff at Lincoln Memorial University were injured. Anyone who was parked in the impacted area and incurred damage to their property is requested to file a report with Lincoln Memorial University Police and Security. Additional details about how the accident occurred are still pending.
The US Bureau of Labor Statistics reports that in 2018, 830 nonfatal occupational injuries and illnesses occurred as a result of explosions in the United States.
Explosions involve a rapid increase in the volume of energy in a small space. Many explosions create extremely hot temperatures and frequently also result in the release of gas into the air. Workers at industrial sites as well as anyone who travels by or lives close to flammable fuel sources is at increased risk of being seriously harmed from explosions. Any injury that results from explosion can potentially warrant compensation, but some of the most common injuries include burns, cuts, lacerations, impalements, abdominal perforation, and abdominal hemorrhages.
Speak with an Experienced Accident Attorney 
Explosions can result in serious injuries as well as fatalities. If you or a loved one is harmed by an explosion caused by someone else, you should not hesitate to speak with a skilled attorney. Contact Fox, Farley, Willis & Burnette today to schedule a free case evaluation.
Note: This post was written based on available resources, news stories, and online reports about this incident. As is often the case with fast breaking news, there is always the risk that some details are still being shared and uncovered. Please contact us if you notice any information that should be changed or added. Thanks!