One Killed in Interstate 40 Accident Near Knoxville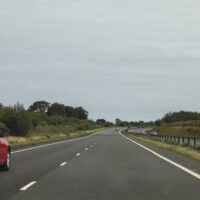 Knoxville, TN (August 2, 2020) A two vehicle accident occurred overnight on August 2 that left one individual dead. Knoxville Police Department reports that the accident occurred around 11:40 p.m. near Oglesby Road overpass. Due to the severity of the accident, a crash reconstruction team was called. The accident was later determined to have occurred when a tractor that was traveling on Interstate 40 East through stop and go traffic rear-ended a Toyota Camry. The Camry's driver was pronounced dead at the scene, but fortunately there were no other injuries associated with the accident. Additional details about the accident are pending.
The Insurance Information Institute reports that in 2017, 2,456 fatal accidents occurred involving moving vehicles that rear-ended one another. 
What Makes Truck-Rear End Collisions So Deadly
Fatalities are much less common when rear-end collisions involve two smaller vehicles. These accidents, however, often prove deadly when a truck rear-ends a smaller vehicle. There are several reasons why these collisions are almost always deadly:
Tractor-trailers weigh 80,000 pounds or more when fully loaded. Passenger vehicles, however, only weigh around 3,000 pounds. As a result, when heavier trucks collide with smaller vehicles, the resulting impact is often greater.
Trucks take a longer time to stop than smaller vehicles. This means that truck drivers are almost always unable to brake quickly to avoid accidents.
Given their immense size and weight, it is common for trucks to push smaller vehicles into other vehicles, which can end up causing deadly vehicle pile-ups.

Contact a Tennessee Accident Attorney 
If you or a loved one has been injured in a Knoxville accident, it can be overwhelming to decide how to respond. One of the best first steps that you can take is to speak with a knowledgeable attorney. Contact Fox, Farley, Willis & Burnette today. 
Note: This post was written based on available resources, news stories, and online reports about this incident. As is often the case with fast breaking news, there is always the risk that some details are still being shared and uncovered. Please contact us if you notice any information that should be changed or added. Thanks!