Newport Pizza Hut Damaged in Car Crash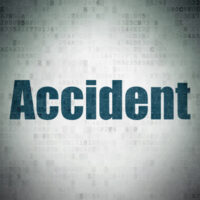 Newport, TN (December 21, 2020) Three individuals were injured as the result of a two-vehicle crash that occurred around 9:30 p.m. on December 21st on Cosby Highway in front of the Pizza Hut. Several first responders were sent to the accident scene.
A law enforcement officer later stated that he observed one vehicle that was stationary on Cosby Highway while a second vehicle had crashed into the corner of the Pizza Hut. The report provided by law enforcement also states that a driver of a passenger vehicle was traveling north when he accelerated to avoid being stopped at the red light at an intersection close to Weigel's. The driver then collided with the driver of a Dodge Charger who was leaving the Taco Bell parking lot. The Newport Fire Department responded to the scene to extricate one of the drivers.
While the driver who ran the red light denied operating the vehicle at first, he later admitted to being the driver. Both the driver and his passenger incurred minor injuries in the crash and were transported to the Newport Medical Center. The driver has since been charged with failure to exercise due care, filing false reports, driving with a revoked license, and violation of financial responsibility.
The Pizza Hut is reported to have incurred $10,000 in damage. The Dodge driver incurred serious injuries in the collision and was transported to Johnson City Medical Center.
The Insurance Institute for Highway Safety has found that red light runners caused hundreds of deaths and tens of thousands of injuries each year. This category includes motorists who race the light and speed through an intersection right before the light turns red.
Do Not Hesitate to Contact an Experienced Accident Attorney
Given the angle of impact as well as the force involved, intersection accidents commonly leave victims facing substantial complications. If someone else is responsible for your intersection accident, you should not hesitate to speak with an experienced attorney. Contact Fox, Farley, Willis & Burnette today to schedule a free case evaluation.
Note: This post was written based on available resources, news stories, and online reports about this incident. As is often the case with fast breaking news, there is always the risk that some details are still being shared and uncovered. Please contact us if you notice any information that should be changed or added. Thanks!