Multiple Vehicles Crash on State Route 33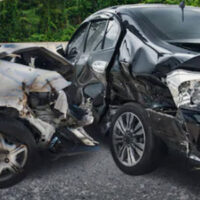 Maynardville, TN (August 10, 2020) Several agencies to a multiple vehicle accident that occurred on State Route 33 (the Maynardville Highway) that left traffic shut down for several hours. Investigation into the accident was led by the Tennessee Highway Patrol. The accident resulted in both sides of the highway being shut down from Lewis Green Hollow Road to Hickory Valley Road. No additional details about the accident are available yet.
The Tennessee Department of Safety & Homeland Security reports that so far in 2020 there have been 80,500 motor vehicle accidents with 484 fatalities, 19,671 injuries, and 60,345 accidents with property damage over $400.
The Most Common Types of Tennessee Car Accidents 
When car accidents occur in Tennessee, they tend to occur in several ways. Some of the most common types of accidents that occur on Tennessee roads include:
Head-on collisions, which occur when the front end of a vehicle strikes another object and often involve vehicles traveling at a high speed. These accidents can involve other vehicle or stationary objects like trees or culverts.
Rear-end collisions, which are commonly caused by tailgating or when motorists follow other vehicles on the road too closely. These accidents commonly result in whiplash due to the quick stop.
Side impact collisions or t-bone accidents, which occur when one vehicle impacts the side of another vehicle. These accidents frequently result in substantial damage because the side of vehicles are not equipped with as much protection as the front or back.

Speak with an Experienced Knoxville Car Accident Lawyer 
Deciding how to respond after accidents occur in Knoxville or the surrounding areas can be difficult. If you or a loved one needs the assistance of an experienced accident attorney, do not hesitate to contact Fox, Farley, Willis & Burnette today to schedule a free case evaluation.
Note: This post was written based on available resources, news stories, and online reports about this incident. As is often the case with fast breaking news, there is always the risk that some details are still being shared and uncovered. Please contact us if you notice any information that should be changed or added. Thanks!