Multiple Vehicle Crash on Interstate 81 South Causes Delays in Greene County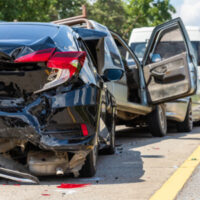 Greene County (March 3, 2021) A multiple vehicle crash on March 3rd occurred on Interstate 81 Southbound that led to delays in Greene County. The Tennessee Department of Transportation reports that the accident occurred close to Exit 23 around 7:40 in the morning. As a result of the accident, the left lane and left shoulder of Interstate 81 South were temporarily blocked. The accident was cleared an hour later. Additional details about the crash are still pending.
Greene County saw 1,522 vehicular accidents in 2020 including 1,083 accidents involving property damage only, 423 accidents involving injury only, and 16 fatalities. Some of the helpful steps that drivers can take to avoid pile-ups is if it's snowing or foggy out to slow down your vehicle, to anticipate your maneuvers and the maneuvers of other drivers, to give other cars on the road adequate space, and to avoid distractions like your cell phone or playing with the radio while driving. If you find yourself in a multiple vehicle accident it's a good idea to not leave your vehicle until you're absolutely certain safe to do so and to wait for emergency medical workers to arrive so you can receive a screening.
Contact an Experienced Tennessee Crash Attorney
If you or a loved one is injured in a Tennessee car crash, you should not hesitate to speak with a compassionate accident attorney. Contact Fox, Farley, Willis & Burnette today to schedule a free case evaluation and so that one of our attorneys can immediately begin fighting for the results that you deserve.
Note: This post was written based on available resources, news stories, and online reports about this incident. As is often the case with fast breaking news, there is always the risk that some details are still being shared and uncovered. Please contact us if you notice any information that should be changed or added. Thanks!