Multiple Vehicle Accident Shuts Down Part of Interstate 40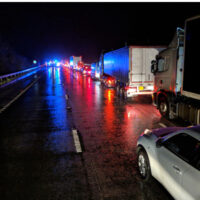 Knoxville, TN (December 25, 2020) Interstate 40 West in Knox County has one lane open close to mile marker 389 following a crash, which caused several lanes to shut down and traffic to slow. Additional details about the accident including whether injuries or fatalities occurred and what caused the crash remain uncertain.
Recent reports suggest that the number of people killed in car crashes in 2020 is ten times lower than the number of COVID-19 deaths. This still means, however, that a large number of people's lives were permanently changed as a result of car crashes that occurred this year. These fatalities are the result of not just single vehicle and two vehicle crashes but also pileups. Some of the most common reasons why multiple vehicle accidents occur include adverse weather conditions, speeding, distracted driving, intoxicated drivers, following motorists too closely, and drivers who fall asleep at the wheel. As a result of one of these driving errors, several other vehicles can quickly end up involved in a crash. In such a situation, one driver might be deemed 40 percent liable for the crash, while another assessed at 20 percent liable.   
Let an Experienced Tennessee Car Crash Attorney Fight For You                 
If you or a loved one has been injured in a Tennessee car crash involving multiple vehicles, it can be difficult to determine how to proceed to obtain the compensation you deserve. During a free case evaluation with an attorney at Fox, Farley, Willis & Burnette, we can discuss your available options to pursue compensation.
Note: This post was written based on available resources, news stories, and online reports about this incident. As is often the case with fast breaking news, there is always the risk that some details are still being shared and uncovered. Please contact us if you notice any information that should be changed or added. Thanks!