Motorcyclists Hospitalized After North Knoxville Accident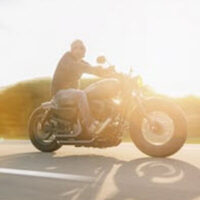 Knoxville, TN (July 28, 2020) The Knoxville Police Department reports that a motorcyclist was hospitalized following an accident that occurred on July 28th. The accident occurred on Valley View Drive at Cross Valley Road around 3 in the morning. Two drivers who were traveling single-file on Valley View Drive when the motorcycle riding in the front turned left onto Cross Valley Road. The second motorcyclist then struck the back of the first motorcycle. Based on reports, the second motorcyclist laid down his bike before it came to rest on top of him. One of the drivers was later transported to the University of Tennessee Medical Center and placed in critical condition.
The Insurance Information Institute reports that there were 89,000 motorcycle injuries in 2017. While this might be a decrease from the 96,000 motorcycle injuries that occurred in 2008, motorcycle accidents still change the lives of many people in Tennessee each year. 
Common Motorcycle Injuries 
Some of the most common injuries known to result from motorcycle collisions include:
Road rash, which occurs when motorcyclists slide across the pavement following an accident. Pavement can scrape away the skin and cause serious injuries similar to burns.
Many motorcyclists remember to wear helmets, but failure to do so can lead to life-changing brain injuries. When a person's head comes into contact with the pavement, serious injuries can include lacerations and even worse impairments.
Spinal cord injuries are a common result of motorcycle accidents and often occur because helmets do little to protect against conditions like quadriplegia and paraplegia.
The thorax is the chest area including the sternum and ribs. Injuries of this kind are dangerous because the ribs can picture other body parts including internal organs.

Contact an Experienced Knoxville Motorcycle Crash Lawyer 
Motorcycles are exhilarating, but they also present many dangers to ride. If you were injured or a loved one was killed while riding a motorcycle, do not hesitate to speak with a knowledgeable attorney. Contact a knowledgeable attorney at Fox, Farley, Willis & Burnette today. 
Note: This post was written based on available resources, news stories, and online reports about this incident. As is often the case with fast breaking news, there is always the risk that some details are still being shared and uncovered. Please contact us if you notice any information that should be changed or added. Thanks!