Motorcyclist Treated for Injuries After Crossville Accident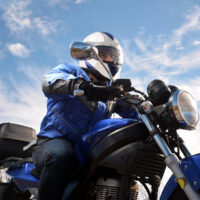 Crossville, TN (August 3rd, 2020) Crossville law enforcement and medics responded to Genesis Road near Interstate Drive on August 3rd in response to a motorcycle accident. The male motorcyclist was alert when workers arrived and sitting up close to where the motorcycle was stopped. The motorcyclist was treated for injuries that are believed to be non-life threatening. A full accident report will later be released by the Crossville Police Department.
The Insurance Information Institute reports that in 2017, 89,000 motorcycle riders were injured in accidents. Fortunately, there are some strategies that motorcyclists can follow to stay safe.
Strategies for Reducing the Risk of Motorcycle Accidents
Some of the critical strategies that motorcyclists can follow to reduce the risk of ending up in an accident include:
Slow down. This way you have more time to respond to road conditions.
Avoid riding between active traffic and parked cars. This is dangerous because dooring accidents can occur or cars even pull out directly in front of motorcyclists.
Always avoid drinking and driving because alcohol delays reaction times.
Perform routine maintenance on your motorcycle.
Learn how to brake and maneuver through road hazards.
Realize that sharing a lane with another vehicle is a dangerous driving pattern.
Contact a Tennessee Personal Injury Lawyer
When motorcycle accidents occur in Tennessee, the results are often devastating. If you or a loved one has been involved in a motorcycle accident and another party is responsible, do not hesitate to speak with a knowledgeable attorney at Fox, Farley, Willis & Burnette today.
Note: This post was written based on available resources, news stories, and online reports about this incident. As is often the case with fast breaking news, there is always the risk that some details are still being shared and uncovered. Please contact us if you notice any information that should be changed or added. Thanks!