Motorcyclist Injured in South Knoxville Accident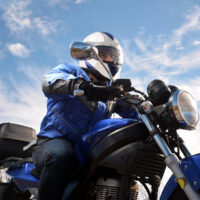 Knoxville, TN (September 8, 2020) A motorcyclist in South Knoxville was taken to the hospital on September 8th following an accident that occurred close to the intersection of the Chapman Highway and West Ford Valley Road. A person who saw the accident said that the motorcyclist was thrown over the top of another vehicle. Details about the motorcyclist's condition as well as additional details about how the accident occurred still remain uncertain.
The Tennessee Department of Safety and Homeland Security reports that in 2019, there were 152 motorcycle deaths in the state of Tennessee, which was composed of 130 motorcyclists who were wearing their helmet, 14 motorcyclists who were not, and 8 motorcyclists whose helmet status is not known. Wearing a helmet whenever is one of the best safety strategies that motorcyclists can follow. 
Other Motorcycle Safety Advice
Besides wearing a helmet, some of the other critical steps that motorcyclists should remember to take include:
Wear bright clothing and make sure that you take other steps to remain visible to others on the road
Under no circumstances should you ever ride while tired. Fatigued driving greatly impairs your ability to respond to conditions that arise suddenly on the road.
Drive defensively and keep a distance between other vehicles on the road
Speak with a Knowledgeable Tennessee Motorcycle Accident Attorney
Motorcycle accidents are not always the result of the motorcycle operator and are often caused by other drivers. In these situations, it can help to promptly contact an experienced attorney. Contact Fox, Farley, Willis & Burnette today to schedule a free case evaluation.
Note: This post was written based on available resources, news stories, and online reports about this incident. As is often the case with fast breaking news, there is always the risk that some details are still being shared and uncovered. Please contact us if you notice any information that should be changed or added. Thanks!