Motorcyclist Injured in Highway 70 Crash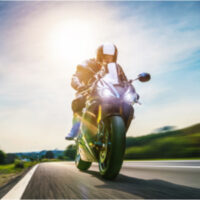 Cumberland County, TN (November 5, 2020) Medical workers and law enforcement in Cumberland County responded to a two motorcycle accident that occurred on the 5300 block of Highway 70 North around noon on November 5th. One rider was transported by air transport to the University of Tennessee Medical Center while another rider received treatment for injuries that he sustained in the crash. A more detailed accident report, which will detail the names of the people involved in the crash will be released at a later date. Additional details about the crash including what caused it have yet to be revealed.
The Insurance Information Institute has found that there were 89,000 injuries faced by motorcyclists in 2017. This equated to 1,018 injuries for every 100,000 registered motorcyclists in the United States. Some of the most common injuries faced by motorcyclists include traumatic brain injuries, road rash, broken bones, spinal cord injuries, and muscle damage. If you are injured in even what appears to be a less serious motorcycle crash, remember that it is still critical to promptly seek immediate medical attention, which can make a substantial difference in both avoiding infections and reducing the risk of disfigurement.
Contact a Tennessee Motorcycle Accident Attorney                 
One of the most common myths that persist about motorcycle accidents is that they are always the fault of the motorcyclist. In reality, many motorcycle crashes are caused by drivers who fail to see motorcyclists. If you've been injured in a motorcycle accident, you should not hesitate to speak with a knowledgeable attorney. Contact Fox, Farley, Willis & Burnette today to schedule a free case evaluation.
Note: This post was written based on available resources, news stories, and online reports about this incident. As is often the case with fast breaking news, there is always the risk that some details are still being shared and uncovered. Please contact us if you notice any information that should be changed or added. Thanks!