Motorcycle Accident Occurs in Crossville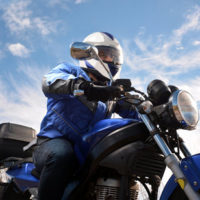 Crossville, TN (September 20, 2020) A motorcyclist was injured after an accident occurred in Crossville on September 20th. Emergency medical workers responded to the corner of North Main Street and Interstate Drive to discover a Suzuki motorcycle had collided with a Chevy Equinox. The motorcycle rider told police that the sun had gone into his eyes and that he falsely mistook a red light as green. The motorcyclist was transported to the hospital for treatment of injuries that do not appear to be severe. The Equinox's driver was fortunately not injured.
Safe motorcycle operation is dependent on clear vision and an unobstructed view. Sun glare can temporarily blind motorcyclists and make it difficult for them to spot what is situated directly in front of them. The Insurance Information Institute reports that glare as well as other vision obstructions like rain and snow accounted for 1,540 deadly motorcycle and car crashes in 2018. An even larger number of people are injured in these accidents.
Tips for Reducing Glare as a Motorcyclist 
Motor vehicle drivers have an easier time dealing with sunlight because cars and trucks are equipped with visors to block out as sunlight. Some of the helpful strategies that motorcyclists can follow to reduce the risk of glare include:
Adding clip-on sunglasses while riding if you wear prescription glasses
Otherwise wearing sunglasses while riding
If you ride a half helmet while riding, using a visor 
Contact a Knowledgeable Tennessee Motorcycle Accident Lawyer
Motorcyclists lack the protection that car drivers and passengers have. This means that when motorcycle accidents occur, the damage is often serious. If someone else played a role in causing your accident, an experienced attorney can help you fight for the maximum amount of compensation possible. Schedule a free case evaluation with Fox, Farley, Willis & Burnette today.
Note: This post was written based on available resources, news stories, and online reports about this incident. As is often the case with fast breaking news, there is always the risk that some details are still being shared and uncovered. Please contact us if you notice any information that should be changed or added. Thanks!