Medical Condition Causes Bybee Car Crash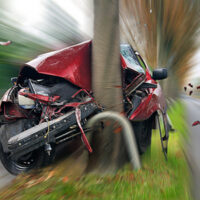 Bybee, TN (September 23, 2020) The Tennessee Highway Patrol reports that a woman in Bybee experienced a medical condition on September 23rd that caused her vehicle to leave Highway 160 and strike a tree. The driver was traveling southbound when her vehicle left the road close to Vinson Hollow Road. Even though the driver was wearing her seatbelt, she had to be extricated from the vehicle and was flown to the University of Tennessee Medical Center for treatment. Additional details about the accident including the woman's medical condition and her condition are still uncertain.
The Federal Motor Carrier Safety Administration has found that car crashes caused by drivers who experienced medical emergencies are rare and represent only 1.3 percent of all drivers in the agency's National Motor Vehicle Crash Causation Survey, which analyzed car accidents between 2005 to 2007. Unfortunately, however, drivers who are involved in these accidents experienced more serious injuries. Approximately 85 percent of the drivers who experienced medical emergencies sustained injuries ranging from non-incapacitating to fatal injuries. The driver who experiences the medical condition is not the only one in danger of being seriously injured, however, as sometimes these motorists veer into opposing lanes of traffic and endanger the lives of other motorists. Unexpected head-on and side-impact collisions are a common occurrence when in these situations.
Contact an Experienced Tennessee Accident Attorney
If you or a loved one has been injured in a Tennessee car crash, you can suddenly find yourself facing serious complications. One of the best things to do in such a situation is to promptly contact a skilled lawyer. Do not hesitate to speak with Fox, Farley, Willis & Burnettetoday to schedule a free case evaluation.
Note: This post was written based on available resources, news stories, and online reports about this incident. As is often the case with fast breaking news, there is always the risk that some details are still being shared and uncovered. Please contact us if you notice any information that should be changed or added. Thanks!