Man Seriously Injured After Sevierville Car Crash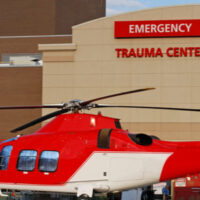 Sevierville, TN (October 3, 2020) A pedestrian was injured on October 3 after being struck by a vehicle in Sevierville and is now recovering at the University of Tennessee Medical Center. Law enforcement reports that the accident occurred while the man was walking down Forks of the River Parkway and stepped into the road, which led to a vehicle striking him. The man was then flown to the medical center with serious leg and hip injuries. Additional details about the accident are still pending. No charges are currently filed against the driver.
The Centers for Disease Control and Prevention report that in 2017, approximately 137,000 pedestrians were treated in emergency departments throughout the country for nonfatal crash-related injuries. There are many reasons why pedestrians are struck by motor vehicles, but some of the most common reasons why these occur include:
Distracted drivers who do not notice pedestrians that dart out in front of them
Drivers who roll through stop signs or fail to adequately stop
Intoxicated drivers who operate their vehicles in a reckless manner
Reckless drivers who fail to take pedestrians into consideration 
Speak with an Experienced Car Crash Attorney                 
If you're a pedestrian who was struck by a vehicle, it is likely that you are now facing serious injuries. While it can be overwhelming to decide how to proceed, one of the best steps that you can take is to speak with a knowledgeable attorney. Contact Fox, Farley, Willis & Burnette today to schedule a free case evaluation.
Note: This post was written based on available resources, news stories, and online reports about this incident. As is often the case with fast breaking news, there is always the risk that some details are still being shared and uncovered. Please contact us if you notice any information that should be changed or added. Thanks!