Man Killed in Single Vehicle Car Crash in Chattanooga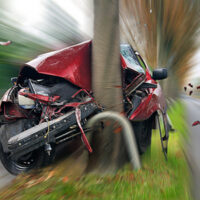 Chattanooga, TN (October 4, 2020) A man was killed on October 4th as the result of a single vehicle accident that occurred on Chattanooga's Brainerd Road. The Chattanooga Police later reported that a Kia Sorrento was traveling east on Brainerd Road when the driver failed to keep the vehicle in its lane. As a result, the vehicle crossed the opposite lane of traffic, left the road, and struck a utility pole. The vehicle then entered a roll before coming to stop on its driver's side. After emergency workers responded, the driver was pronounced dead at the scene of the accident. Additional details about the accident including what caused the vehicle to leave the road are still under investigation.
The National Highway Traffic Safety Administration divides single vehicle car crashes into run-off-road (ROR) and on-road (OR) accidents where the vehicle remained on the road following the accident. Rural roads, the agency has found, are the most common scene of ROR accidents as compared to urban roads. The risk of ROR also increases substantially due to driver performance-related factors like distractedness, sleepiness, over-correction of the vehicle, and attempting to avoid a crash.
Speak with an Experienced Tennessee Car Crash Attorney               
If you recently lost a loved one in a car crash, you can suddenly find yourself facing various hardships including funeral and burial costs. One of the best ways to respond to such a situation is to obtain the assistance of an experienced accident attorney. Speak with Fox, Farley, Willis & Burnette today so that we can begin fighting for the results you deserve.
Note: This post was written based on available resources, news stories, and online reports about this incident. As is often the case with fast breaking news, there is always the risk that some details are still being shared and uncovered. Please contact us if you notice any information that should be changed or added. Thanks!