Man Killed in Greene County Crash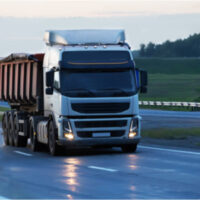 Greene County, TN (October 29, 2020) The Tennessee Highway Patrol reports that a man was killed in an accident on October 29th after a box truck collided with a tractor trailer. The accident occurred after the tractor-trailer slowed down at the 46 mile marker on Interstate 81. While the box truck driver was killed in the collision, the tractor-trailer driver was not injured.
The National Highway Traffic Safety Administration found in 2017 that 4,761 individuals died in accidents involving large trucks. Box trucks (which are also referred to as cube trucks) are often used in the United States as moving vans and weigh between 12,500 to 33,000 pounds.
Due to their unique size, box trucks are more susceptible to certain types of accidents than other vehicles. One, box truck drivers often do not have sufficient experience on how to safely drive the truck and end up in rollovers because they navigate turns too quickly. Second, box trucks have substantial blind spots, which refer to areas immediately surrounding a vehicle that are outside a driver's field of vision. It is challenging for box truck drivers to see in their rear quarter behind the truck. Third, box truck drivers fail to process that due to their weight, box trucks require more time to stop than smaller vehicles. As a result, box trucks often end up in rear-end collisions. 
Contact a Tennessee Truck Accident Lawyer                
If you or a loved one has been the victim of a Tennessee truck accident caused by someone else, it is important to remember that you have rights. One of these rights is the ability to hold the person who caused your accident financially responsible for the damage you now face. An experienced attorney can help you pursue this compensation. Contact Fox, Farley, Willis & Burnette today.
Note: This post was written based on available resources, news stories, and online reports about this incident. As is often the case with fast breaking news, there is always the risk that some details are still being shared and uncovered. Please contact us if you notice any information that should be changed or added. Thanks!