Log Truck Causes Vehicle Rollover in Cumberland County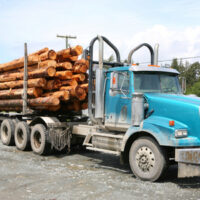 Cumberland County, TN (September 10, 2020) On the afternoon of September 10th, the Tennessee Highway Patrol responded to a motor vehicle accident that occurred on Highway 68 in Cumberland County's Grassy Cove area. The crash occurred when a log truck crossed into the lane of a BMW driver who was traveling in a lane in the opposing direction. The BMW's driver swerved to avoid a collision, lost control of her vehicle, and the car rolled over onto its top. The tractor trailer driver, however, did not stop at the scene of the accident. The BMW's driver was then transported to a nearby hospital for the treatment of injuries. Additional details about the accident are still under investigation and the driver of the log truck has not yet been located.
By calculating data provided by the National Highway Traffic Safety Administration in 2015, the AAA Foundation has found that hit and run accidents occur in the United States every 43 seconds. 
Why Hit and Run Drivers Flee the Scene of Accidents
One of the most common reasons why hit and run accidents occur is that motorists experience a "fight or flight" emotion that leads them to drive away rather than stop after a crash occurs. Some of the other reasons why drivers hit and run include:
Motorists are driving a vehicle without permission
Motorists are operating a work vehicle and do not want employers to find out
Motorists are transporting illegal items like marijuana
Motorists have outstanding warrants for an arrest
Speak with an Experienced Tennessee Car Crash Lawyer 
If you or a loved one has been injured in a car accident, one of the best things that you can do is promptly retain the assistance of an experienced accident attorney. Contact Fox, Farley, Willis & Burnette today to schedule a free case evaluation.
Note: This post was written based on available resources, news stories, and online reports about this incident. As is often the case with fast breaking news, there is always the risk that some details are still being shared and uncovered. Please contact us if you notice any information that should be changed or added. Thanks!