Law Enforcement Responds to Vehicle Accident on Peavine Road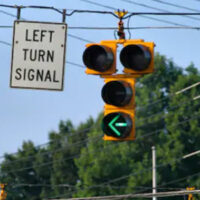 Cumberland County, TN (August 12, 2020) Cumberland County law enforcement responded on the morning of August 12th to a two vehicle accident that occurred on Peavine Road. An accident report provided by law enforcement states that a Honda CR-V made a left turn onto Peavine Road from St. George Drive but failed to see an oncoming Chevy S-10 pickup truck. As a result, the vehicles collided. Both drivers were fortunately able to avoid injuries.
The National Highway Traffic Safety Administration reports that left turns are involved in over 20% of intersection accidents.
Why Left Hand Turn Accidents Are Common 
There are several factors that often result in left hand turn accidents, which include:
Drivers who miscalculate the distance across intersections
Drivers who misjudge other driver's speeds
Drivers who pass through blind spots
Failure to signal or failure to yield right-of-way
Obstructed views while making turns

How to Stay Say While Making Left Turns 
Some of the critical safety strategies that drivers can follow when making left turns include:
Be aware of both the posted speed as well as well as the speed of other drivers
Before making the turn, make sure to turn on your blinker or turn signal
Double check that there are no obstructions that limit your view
Remember that drivers headed straight often have the right-of-way

Contact a Tennessee Personal Injury Attorney 
Navigating the aftermath of a car accident and pursuing compensation is never easy, but a skilled accident lawyer can help. Do not hesitate to schedule a free case evaluation with Fox, Farley, Willis & Burnette. 
Note: This post was written based on available resources, news stories, and online reports about this incident. As is often the case with fast breaking news, there is always the risk that some details are still being shared and uncovered. Please contact us if you notice any information that should be changed or added. Thanks!