Law Enforcement Responds to Tractor-Trailer Crash on Interstate 40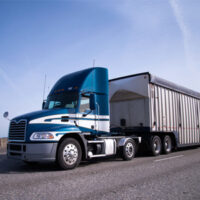 Roane County, TN (December 29, 2020) A tractor-trailer crash occurred on the morning of December 29th that left the right lane as well as the shoulder of the 341 mile marker temporarily blocked. Law enforcement states that a FedEx driver ran off the road and rolled down an embankment. Details about any injuries incurred in the accident are still uncertain. Drivers are advised to remain cautious while passing through the area.
The Insurance Institute for Highway Safety has found that most fatalities associated with large truck crashes are passenger vehicle occupants. The primary reason for this factor is the vulnerability of people who travel in smaller vehicles. Because trucks are often much larger in size and weight, accidents involving passenger vehicles are often devastating. One of the best things that the drivers of passenger vehicles can do to avoid ending up in car crashes is to avoid ending up in blind spots. These blind spots exist not just at the side but also immediately behind tractor-trailers. It's also a good idea to avoid traveling too close behind tractor-trailers because a greater distance is required to stop.
Contact a Compassionate Tennessee Tractor-Trailer Accident Attorney                 
In the aftermath of tractor-trailer accidents, victims often find themselves overwhelmed by emotions. In such a situation, it is important to take the necessary steps to protect yourself as a victim and a lawyer can help you do so. Contact Fox, Farley, Willis & Burnette today to schedule a free case evaluation.
Note: This post was written based on available resources, news stories, and online reports about this incident. As is often the case with fast breaking news, there is always the risk that some details are still being shared and uncovered. Please contact us if you notice any information that should be changed or added. Thanks!