Law Enforcement Involved in Oak Ridge Highway Crash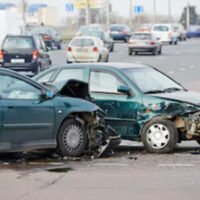 Knox County, TN (October 23, 2020) Law enforcement states that an officer and another motorist were traveling in opposite directions around the Cherokee Caverns area in Knox County on October 24th when the other motorist attempted to turn left into a parking lot. This caused the officer to strike the other motorist at a front-end angle.  Both vehicles then stopped moving due to the collision. Both the officer and the other motorist were injured in the crash. A passenger in the other motorist's vehicle was also potentially injured. No additional details about the cause of the accident have been released.
Data compiled by the National Highway Traffic Safety Administration Reveals that in 22.2 percent of car crashes, vehicles turning left at intersections played a role as pre-crash events. Many times because left turn accidents involve the collision between the front of one vehicle and the driver-side of another vehicle, the results are particularly serious. Fortunately, there are several things that drivers can do to avoid the chances of ending up in a left turn accident. Before making a left turn, it is critical to turn on your vehicle's left turn signal so other surrounding motorists are informed about your decision to turn. Drivers also must proceed cautiously and do their best to pay attention to their surroundings when turning.
Contact a Tennessee Car Crash Lawyer
Tennessee car crashes occur in a few moments, but have the potential to forever change the lives of accident victims. One of the best responses that you can take in such a situation is to promptly retain the assistance of an experienced accident attorney. Consider contacting Fox, Farley, Willis & Burnette for assistance.
Note: This post was written based on available resources, news stories, and online reports about this incident. As is often the case with fast breaking news, there is always the risk that some details are still being shared and uncovered. Please contact us if you notice any information that should be changed or added. Thanks!