Latest Recall Highlights Danger of Off-Road Vehicles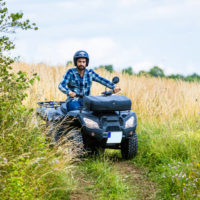 Although most motor vehicle accidents involve cars or trucks, it is important not to overlook other modes of transportation that are equally (if not more) dangerous. A person can suffer serious injuries–and even die–when any type of vehicle is unsafe or driven in a negligent manner.
Teenagers at Risk from Defective Vehicles
For example, a 2014 study published by the U.S. Consumer Product Safety Commission (CPSC) noted Tennessee was one of the top ten states for deaths in all-terrain vehicle (ATV) accidents. More than 700 people died between 2001 and 2008 nationwide in accidents involving ATVs or "off-road" vehicles. Nearly 150 of those deaths involved minors.
Just recently the CPSC announced a voluntary recall by the manufacturer of a popular off-road vehicle. According to a January 11 press statement, Textron Specialized Vehicles, Inc., a company based in Augusta, Georgia, recalled 1,100 off-road vehicles sold under he "Bad Boy" brand name due to their lack of seatbelts. This action comes more than two years after a 14-year-old teenager in Georgia died when a Bad Boy vehicle rolled over. The CPSC also disclosed at least one other serious injury arising from the use of a Bad Boy vehicle.
The recall specifically applies to Bad Boy XTO and Bone Collector XTO vehicles sold between 2010 and 2013. The CPSC said owners can identify a recalled vehicle by looking for a serial number between 8000020 through 8004934, which can be found on the steering column connected to the wheel. The CPSC emphasizes anyone who owns one of these vehicles should immediately stop using them and return it to Textron for servicing.
The Textron recall is at least the second major CPSC action involving off-road vehicles during the past year. In April 2016, the agency recalled 130,000 off-road vehicles manufactured by Minnesota-based Polaris Industries. Nearly 100 of the Polaris machines "burst into flames." In one case a Polaris vehicle tipped over and burst into flames, leading to the death of a 15-year old girl in Utah. According to news reports, the girl "suffered burns over 65 percent of her body and endured 27 surgeries in the months after the accident" before her family decided to take her off of life support.
Have You Been Injured in a Tennessee Off-Road Vehicle Accident?
CPSC recalls may protect future consumers from harm. But they do little to compensate families who have lost children or victims who continue to struggle with serious injuries as the result of a defective off-road vehicle. And even when the vehicles themselves are safe, an inexperienced or intoxicated driver can still do significant damage to innocent third parties. Remember, since all-terrain and off-road vehicles generally do not operate on public highways, drivers are not subject to the same licensing laws as regular cars and trucks. It is very easy for an inexperienced driver, such as a teenager, to gain control of an ATV and cause a fatal accident.
If you or a family member have been injured due to a defective ATV (or a negligent operator), you should speak with a qualified Tennessee personal injury attorney to discuss your legal options. Contact the offices of Fox, Farley, Willis & Burnette, Attorneys at Law, in Clinton or Knoxville to schedule a consultation today.
Resources:
cpsc.gov/Recalls/2017/Textron-Specialized-Vehicles-Recalls-Bad-Boy-Off-Road-Utility-Vehicles
startribune.com/polaris-recalls-133-000-off-road-vehicles-after-reports-of-fire/376200811/