Knoxville Woman Injured in Cumberland County Motorcycle Accident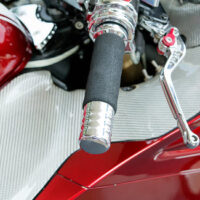 Cumberland County, TN (July 27, 2020) Cumberland county law enforcement and medics responded on July 24 to an ATV trail located off of Brock Lane in Catoosa Wildlife Management Area in response to an accident. The operator of a motorcycle on the trail told law enforcement that he was navigating a mud hole on the motorcycle, lost traction, and fell to the ground. A passenger on the motorcycle experienced a foot injury and was loaded onto a backboard, transported to an ambulance, and taken to a nearby medical facility.
The Insurance Information Institute reports that in 2017, motorcycle accidents resulted in 5,172 fatalities and 89,000 injuries.
Factors that Lead to Loss of Motorcycle Control 
Several factors can cause motorcyclists to lose control of their vehicle and end up in an accident, which include:
Speeding, in which motorcyclists do not have adequate time to react to avoid collisions when sudden road dangers arise
Inexperienced motorcyclists, who do not have enough training about how to safely handle their vehicle
Turning, which is very different with a motorcycle than larger vehicles. Balance plays a critical role when turning with a motorcycle. Motorcyclists must slow down when turning and then accelerate through the turn.
Experienced drivers can also end up losing control of their vehicle. This might be caused by poor maintenance or other hazards that riders cannot anticipate. Potholes, uneven roads, and mud holes commonly cause motorcyclists to lose control of their vehicles.
Contact a Tennessee Motorcycle Accident Attorney
When motorcyclists or other drivers fail to exercise cautions, serious motorcycle accidents can occur. Our attorneys remain focused on helping motorcycle accident victims pursue justice and compensation. At Fox, Farley, Willis & Burnette, we can review your options to pursue compensation during a free case evaluation. Contact us today for assistance.
Note: This post was written based on available resources, news stories, and online reports about this incident. As is often the case with fast breaking news, there is always the risk that some details are still being shared and uncovered. Please contact us if you notice any information that should be changed or added. Thanks!