Knoxville Teen Killed in Sevierville Crash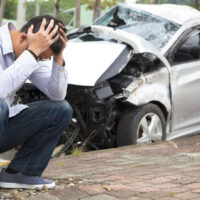 Sevierville, TN (October 13, 2020) One Knoxville teen died and another teen was injured in a car crash that occurred on October 13th in Sevierville. Law enforcement reports that the single vehicle accident occurred when one of the teenagers was operating the vehicle in the 700 block of Sevierville's West Main Street in the early morning. Law enforcement reports at the time of the crash, the vehicle was traveling at a high rate of speed and crossed over the median into the opposing lane of traffic. The vehicle then rolled over before coming to a stop in the road. The driver was killed in the crash, while the passenger was taken to a nearby medical facility with non-life-threatening but serious injuries.
The Centers for Disease Control and Prevention reports that in 2017, 2,364 teenagers in the United States between the ages of 16 to 19 were killed while another 300,000 teenagers received treatment in emergency rooms for injuries sustained in motor vehicle crashes. While it might sound hard to believe, per mile driven, teenage drivers are three times more likely than drivers over the age of 20 to end up in deadly car crashes. 
Speak with an Experienced Accident Attorney                 
If you lost a loved one in a car crash caused by another party, it is easy to end up feeling overwhelmed and uncertain about how to proceed. One of the best steps that you can take in such a situation is to promptly retain the assistance of a skilled attorney. Contact Fox, Farley, Willis & Burnette today to schedule a free case evaluation.
Note: This post was written based on available resources, news stories, and online reports about this incident. As is often the case with fast breaking news, there is always the risk that some details are still being shared and uncovered. Please contact us if you notice any information that should be changed or added. Thanks!