Knoxville Police Cruiser Collides with Pedestrian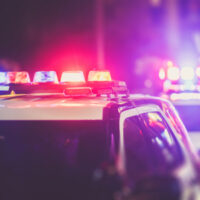 Knoxville, TN (January 11, 2021) The Knoxville Police Department reports that a pedestrian was hospitalized on January 11th after he was struck by a police cruiser. Law enforcement reports that the cruiser's driver was headed north on North Broadway and exiting onto a ramp to Tazewell Pike while on duty in an unmarked vehicle. Law enforcement reports that a man was walking southbound on the Tazewell Pike ramp when he was struck by a police cruiser at the right front end of the vehicle. Following the collision, the pedestrian was reported to have been awake and talking with emergency medical workers. The victim was then transported to the University of Tennessee Medical Center with non-life threatening injuries. Knoxville Police report that the pedestrian was either walking on or close to the fog line at the time of the accident and was not visible. The office who caused the crash successfully completed an alcohol and drug screening.
The National Highway Traffic Safety Administration reports that there was a more than 3% increase in the number of pedestrians who were killed in traffic accidents in 2018. Consequently, 6,283 pedestrian fatalities occurred in 2018, which marked the greatest number of pedestrian fatalities since 1990. 
Do Not Hesitate to Speak with an Experienced Pedestrian Accident Attorney                 
Because pedestrians lack the degree of protection that motor vehicle drivers and passengers have, pedestrians who are struck by motor vehicles often end up facing life-changing injuries and other complications. One of the best ways to respond in such a situation is to promptly speak with an experienced attorney. Contact Fox, Farley, Willis & Burnette today. During a free case evaluation, a seasoned pedestrian accident lawyer  will review your available options to pursue compensation.
Note: This post was written based on available resources, news stories, and online reports about this incident. As is often the case with fast breaking news, there is always the risk that some details are still being shared and uncovered. Please contact us if you notice any information that should be changed or added. Thanks!