Knoxville Man Killed in Motorcycle Crash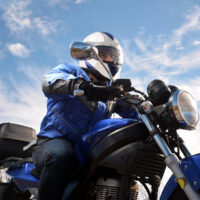 Knoxville, TN (October 16, 2020) The Knoxville Police Department reports that a man was killed in a motorcycle crash on the morning of October 16th. Based on the report provided by law enforcement, a single-vehicle accident involving a motorcycle occurred at Blackstock Avenue close to Hannah Avenue. The motorcyclist was the only person involved in the accident and pronounced dead at the scene. Investigators report that a motorcycle was traveling fast on Blackstock when the motorcyclist lost control of his vehicle. The motorcyclist then ran off the road and into a parking lot. The victim was transported to a Regional Forensic Center for further investigation.
The National Highway Traffic Safety Administration reports that in 2018, an annual 5% decrease of motorcyclists were killed. While this might sound like motorcycle accidents are becoming less threatening, each year a large number of riders still lose their lives in motorcycle crashes. The latest data regarding vehicle miles traveled even reveals that motorcyclists are 28 times more likely than passenger vehicle occupants to die in crashes. Remember, you can greatly decrease your chances of getting killed or injured by wearing a helmet whenever you ride. It is also a good idea to check your bike before every trip as well as to make sure that you are accustomed to the feel of your motorcycle before heading out onto the road.
Speak with an Experienced Motorcycle Crash Lawyer                 
If you or a loved one is injured or killed in a motorcycle crash, you can end up facing serious hardships. Fortunately, a skilled attorney can help you pursue compensation. Contact Fox, Farley, Willis & Burnette today to schedule a free case evaluation.
Note: This post was written based on available resources, news stories, and online reports about this incident. As is often the case with fast breaking news, there is always the risk that some details are still being shared and uncovered. Please contact us if you notice any information that should be changed or added. Thanks!