Knox County Fog Results in Car Crash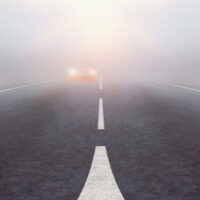 Knox County, TN (August 26, 2020) A dense fog advisory was issued for some parts of East Tennessee on the morning of August 26th. As a result, many spots in area roads became difficult to see. The Tennessee Department of Transportation also reported an accident on Interstate 40 that occurred around 1 a.m. on August 26th due to the fog. As a result of the accident, the right lane of Interstate 40 westbound close to mile marker approaching Strawberry Plains was blocked for several hours. Additional details about the accident are still pending.
The AAA Foundation for Traffic Safety reports that Tennessee is part of a southeast region that sees more fog-related fatal vehicle crashes than any other part of the country.
Advice on Avoiding Fog-Related Accidents
Some of the helpful strategies that Tennessee drivers should take to reduce the risk of ending up in accidents caused by the fog include:
Avoid using cruise control because hazardous conditions can arise suddenly in the fog
If it's at all possible, avoid driving in the fog
Leave adequate space between your vehicle and other cars on the road
Realize that low beams are better than high beams when traveling through fog
Utilize your vehicle's defroster and windshield wipers
Obtain the Services of a Dedicated Knoxville Car Crash Lawyer
If you or a loved one has been involved in a car accident caused by someone else, it can help to retain the assistance of an experienced attorney. Contact Fox Farley Willis & Burnette today to schedule a free case evaluation.
Note: This post was written based on available resources, news stories, and online reports about this incident. As is often the case with fast breaking news, there is always the risk that some details are still being shared and uncovered. Please contact us if you notice any information that should be changed or added. Thanks!