Johnson City Woman Killed in Truck Accident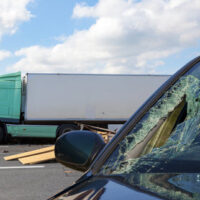 Johnson City, TN (August 6, 2020) A Johnson City woman was killed in a vehicle accident and subsequent fire that occurred on Interstate 81 on August 6th. The woman's passenger vehicle was struck by a tractor trailer, which swerved to avoid the smaller vehicle but ended up colliding with the passenger's vehicle rear. As a result of this collision, the passenger vehicle was pushed off the side of the road onto the shoulder and the vehicle caught fire. The truck driver was not injured, but the woman driving the smaller vehicle was killed.
Details compiled by the Insurance Institute for Highway Safety reveal that a total of 4,136 individuals died in large truck crashes in 2018. While sixteen percent of these fatalities were truck occupants, 67 percent of the fatalities were the occupants of passenger vehicles.
Wrongful Death Lawsuits After Tennessee Truck Accidents 
If your loved one was killed in a truck accident, you and your family are likely debating filing a wrongful death lawsuit against the truck driver or even the trucking company or other party that caused the accident. In the state of Tennessee, a spouse, parent, or child is capable of pursuing a wrongful death lawsuit. While these lawsuits cannot replace the loss of a loved one in a truck accident, these lawsuits can help parties recover various types of damage including burial and funeral costs, lost income, medical expenses, pain and suffering, and the loss of consortium.
Contact a Tennessee Personal Injury Lawyer 
Following collisions, it can be difficult to determine how to proceed, particularly if the accident involved the death of a loved one. Obtaining the assistance of an attorney can help. Contact Fox, Farley, Willis & Burnette to schedule a free case evaluation. 
Note: This post was written based on available resources, news stories, and online reports about this incident. As is often the case with fast breaking news, there is always the risk that some details are still being shared and uncovered. Please contact us if you notice any information that should be changed or added. Thanks!