Johnson City Driver Collides with Unicoi Police Vehicle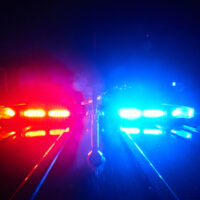 Johnson City, Tn (November 28, 2020) A man in Johnson City was arrested on November 28th by the Unicoi Police Department after he collided with one of the department's vehicles while leaving the scene of a domestic disturbance. Based on the law enforcement news release, the driver was charged with aggravated domestic assault, evading arrest, reckless driving, resisting arrest, and violation of a protection order, Law enforcement were dispatched to Buffalo Mountain Lane following reports of the domestic disturbance. Law enforcement states that the suspect also had a protection order filed against him in May of this year. A law enforcement officer was on his way to the scene when he was informed that the suspect was headed south on Unicoi Drive traveling at a speed of greater than 70 miles per hour.
After identifying a vehicle that matched the description, law enforcement attempted to stop it. The driver, however, continued and struck another vehicle at the intersection of Unicoi Drive and Tennessee Highway 173. The vehicle then came to a stop. The driver then placed his vehicle in reverse and rammed the law enforcement, which was attempting to block the driver. The law enforcement officer drew his weapon and ordered the suspect out of the vehicle, but the suspect did not comply. The suspect was later taken into custody at the scene. The suspect was given a breathalyzer test, which revealed a blood alcohol content of .26. The Tennessee Highway Patrol has since filed charges against the driver.
A 2017 report by the Bureau of Justice Statistics found that 351 individuals died as a result of pursuit-related crashes in 2012. A much larger group of people were injured or incurred property damage as a result of pursuits.
Speak with a Tennessee Accident Attorney
If your vehicle is impacted by another vehicle escaping the police, remember you have a right to pursue compensation and an experienced attorney can help you do so. Contact Fox, Farley, Willis & Burnette today to schedule a free case evaluation.
Note: This post was written based on available resources, news stories, and online reports about this incident. As is often the case with fast breaking news, there is always the risk that some details are still being shared and uncovered. Please contact us if you notice any information that should be changed or added. Thanks!