It was a Pretty Bad Week for Amusement Parks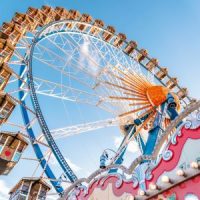 When we go to amusement parks, we expect or assume that the rides that we are on, are undergoing some kind of inspection or review by experienced professionals. The last thing we would expect is for a defect that is large, obvious, and incredibly dangerous to be overlooked by those professionals, and instead, detected by people having a good time at the amusement park itself.
Large Crack Goes Unnoticed
That's exactly what happened this week, when onlookers at a North Carolina amusement park saw something shocking: a large beam supporting a roller coaster had an enormous, visible crack in it. The crack was so big, light could be seen showing through the crack, coming in from the other side of the post supporting the coaster.
Upon seeing (and videotaping) the huge crack—present while the roller coaster was running, with riders on it—the man went to get park staff, to alert them to the potential danger.
To his surprise, and according to reports, staff at the park was less than attentive or helpful. The man reported that the staff seemed somewhat relaxed, saying that according to him, park workers showed "no sense of urgency." It took the man reporting the crack to four different park employees, before anybody did anything.
The ride eventually was closed down, and remains so. Park officials say that rides are inspected daily—but it is hard to imagine how such an enormous, visible crack could possibly be missed.
Stalled Roller Coasters
If you think that was bad, it wasn't even the worst news to come out of amusement parks this week.
In Maryland, at a Six Flags park, riders of a roller coaster were caught suspended in air, upside down, when a coaster stalled. Riders were stuck dangling in the air, upside down, for almost two hours.
What may be even worse is that this isn't even the first time this has happened at this park; rather, it is the third time in as many years that riders had to be pulled off stalled or damaged rides.
After the July 4th holiday, in Wisconsin, eight people were again stranded on a stalled roller coaster, again, upside down, this time for a full four hours. The park blames mechanical failure. The park said that riders were safely held in place by their harnesses. Rescue took an extended time, because of how high the riders were, when the ride stalled.
Statistics May not be Accurate
Neither of these incidents, thankfully, involved fatalities, and even injuries at amusement parks on rides are rare. According to some studies, there are only .9 injuries for every million riders—but many of these studies are conducted by industries related to amusement parks, and thus, the studies are hardly neutral.
Additionally, the definition of what an injury even is, can vary from state to state, making it hard to truly get a gauge on how many injuries there are. And naturally, many amusement parks blame riders for their own injuries.
Were you injured at an amusement park? These can be complex cases, but we know how to handle them. Call the Knoxville amusement park lawyers at Fox Farley Willis & Burnette, PLLC, today.
Sources:
nypost.com/2023/07/06/no-sense-of-urgency-dad-who-noticed-crack-on-roller-coaster/
nypost.com/2019/07/19/passengers-get-stuck-on-six-flags-roller-coaster-for-more-than-2-hours/
ualrpublicradio.org/npr-news/npr-news/2023-07-06/heres-what-to-know-about-roller-coaster-safety-after-2-recent-scares