Intoxicated Motorist Crashes Into Knoxville Bus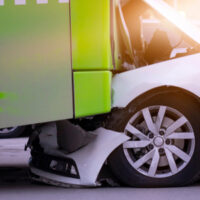 Knoxville, TN (November 3, 2020) The Knoxville Police Department responded to an accident on November 3rd involving an intoxicated motorist in West Knoxville. According to law enforcement, officers stopped a vehicle at the Walbrook Drive Walmart for a drug investigation during which the suspect was detained. While an officer was talking to the driver, she began to drive off and nearly struck the officer. Law enforcement temporarily lost sight of the vehicle before it was found crashed into the back of a KAT bus at the intersection of Walker Springs Drive and Walbrook Drive. The driver was the only person reported to have been injured in the accident and was transported to a nearby medical facility with non-life threatening injuries. Knoxville law enforcement later reported that the driver was found in possession of presumed heroin and methamphetamine. The driver also had drug paraphernalia which was consistent with drug resale. In addition to drug-related charges, the driver was also charged with aggravated assault of a police officer.
A 2010 study from the Transportation Research Institute at the University of Michigan analyzed data between 1999 to 2005 and discovered that approximately 63,000 buses are involved in accidents each year. Many of these accidents resulted in serious injuries as well as fatalities. 
Contact a Tennessee Bus Accident Attorney                 
Due to their immense size and weight, crashes involving buses in Tennessee often have devastating consequences. If you or a loved one is injured in one of these accidents, you should not hesitate to speak with a skilled lawyer. Contact Fox, Farley, Willis & Burnette today to schedule a free case evaluation.
Note: This post was written based on available resources, news stories, and online reports about this incident. As is often the case with fast breaking news, there is always the risk that some details are still being shared and uncovered. Please contact us if you notice any information that should be changed or added. Thanks!