Interstate 81 Closed After Sullivan County Crash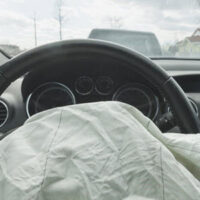 Sullivan County, TN (August 27, 2020) An accident occurred in the northbound lane of Interstate 81 in Sullivan County on the afternoon of August 27th. The accident was reported at 11:59 a.m. close to mile marker 58 by the Tennessee Department of Transportation. As a result of the accident, Interstate 81 North was blocked and resulted in temporary delays, while the southbound lane was not impacted. The scene was cleared shortly after, but a second crash occurred soon after the first around 12:05 p.m. close to mile marker 82. Additional details about how the crashes occurred are still under investigation.
So far in 2020, the Tennessee Department of Safety and Homeland Security reports that
there were 367 car accidents involving injuries and 15 accidents involving fatalities in Sullivan County.
Tips to Avoid Chain Reaction Accidents
While additional details about these two accidents are pending, due to the close time and proximity between two crashes, the second collision likely occurred as a result of the first. To avoid chain reaction accidents, there are some helpful strategies drivers can take, which include:
Avoid driving too close to other vehicles. Many chain reaction accidents occur because drivers do not have sufficient time to stop before they end up in a collision.
If you are involved in a car accident, make sure to drive your vehicle immediately off the road and if possible to put on your hazard lights. This way you can alert other motorists to the danger.
Remember to slow down when visibility is low. Many chain reaction accidents occur because drivers have impaired vision due to adverse weather conditions or other obstructions.
Retain the Services of an Experienced Tennessee Accident Attorney
When Tennessee car accidents occur, the results are often devastating. Fortunately, an experienced accident lawyer can help you pursue compensation. Contact Fox, Farley, Willis & Burnette today for assistance.
Note: This post was written based on available resources, news stories, and online reports about this incident. As is often the case with fast breaking news, there is always the risk that some details are still being shared and uncovered. Please contact us if you notice any information that should be changed or added. Thanks!