Injuries Reported After Vehicle Rollover on Interstate 40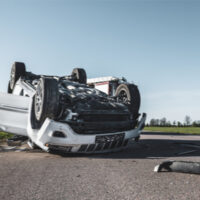 Cumberland County, TN (January 22, 2021)  The Tennessee Highway patrol and emergency workers responded to a single vehicle crash on Interstate 40 in Cumberland County on the afternoon of January 22nd. Law enforcement states that a driver was traveling west at the 326 mile marker when the motorist ran off the road and collided with an embankment. The collision caused the Ford the driver was operating to rollover. The driver was fortunately restrained at the time of the accident. The driver was later flown from the scene by medical helicopter to a trauma center for treatment of his injuries. The westbound lanes were closed at the scene for approximately an hour following the accident.
Pickup trucks and sports utility vehicles are more likely than cars to be in single vehicle-crashes, especially accidents involving rollovers. Because these vehicles not just have a higher center of gravity, they are also heavier, the occupants of these involved in rollovers are more likely to end up facing fatalities. The Insurance Institute for Highway Safety has found that 1,303 car occupants died in car crashes in 2018, which represented 10 percent of car crash fatalities. Meanwhile, 896 deaths from pickups in 2018 involved rollovers, which represented 21% of the pickup truck crashes. 
Do Not Hesitate to Speak with an Experienced Tennessee Car Crash Attorney                 
When Tennessee car crashes occur, victims often feel confused about how to respond to obtain the compensation they deserve. Contact Fox, Farley, Willis & Burnette today and during a free case evaluation one of our attorneys can review your available options to pursue compensation.
Note: This post was written based on available resources, news stories, and online reports about this incident. As is often the case with fast breaking news, there is always the risk that some details are still being shared and uncovered. Please contact us if you notice any information that should be changed or added. Thanks!