Injuries Reported After Putnam County Accident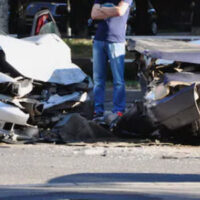 Putnam County, TN (August 18, 2020) A two vehicle accident occurred August 18th on Highway 62 east of Monterey and left two people injured. Law enforcement reports that a Chevy Blazer veered off the road, overcorrected, came back onto the road, and ended up colliding  with an oncoming vehicle. Both motor vehicle drivers were wearing seat belts at the time of the accident and transported to Cookeville Regional Medical Center. The driver who left the road was later charged with driving under the influence as well as resisting arrest.
The National Highway Traffic Safety Administration has found that the national use rate for seat belts was 90.7% in 2019. While buckling up can greatly help to decrease the chances of ending up injured in a car accident, it is also important to follow some helpful defensive driving strategies. 
Defensive Driving Tips 
Some of the defensive driving strategies that all drivers should follow include:
Always be prepared to respond to other drivers
Avoid distractions like smart phone usage while driving
Control your vehicle's speed
Never anticipate motorists to respond in a certain way
Stay alert to road as well as weather conditions

Retain the Services of a Skilled Tennessee Car Crash Lawyer 
Following Tennessee car accidents, it is easy to end up feeling overwhelmed about how to proceed. During a free case evaluation with an attorney at Fox, Farley, Willis & Burnette, one of our experienced lawyers can discuss what strategies you can pursue to obtain compensation. Contact us today for assistance. 
Note: This post was written based on available resources, news stories, and online reports about this incident. As is often the case with fast breaking news, there is always the risk that some details are still being shared and uncovered. Please contact us if you notice any information that should be changed or added. Thanks!