Individual Killed in Highway 127 Crash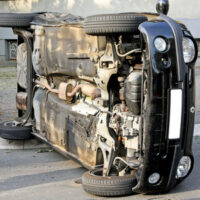 Bledsoe County, TN (January 29, 2021) The Tennessee Highway Patrol reports that a single vehicle crash occurred on the evening of January 29th on Highway 127 just south of Bledsoe County. Law enforcement reports that the driver of a Toyota exited the road and struck a culvert. As a result of this collision, the vehicle then flipped over and ejected the driver, who was not wearing a seatbelt. The vehicle then came to a rest on top of the driver, who was pronounced dead at the scene of the accident.
The National Highway Traffic Safety Administration has found that of the 37,133 people killed in motor vehicle crashes in 2017, 47% of these individuals were not wearing seat belts. Seatbelts saved the lives of approximately 14,955 individuals in 2017 and could have saved an additional 2,549 individuals if they had been wearing seat belts. All motorists should remember that seat belts are the single most effective technology in the history of motor vehicles. Seat belts are a more effective safety device than features like air bags, absorbant steering columns, and electronic stability controls. 
Contact a Compassionate Tennessee Accident Attorney                 
Losing a loved one in a car crash is a traumatic experience. While no amount of money can make up for the loved one's death, compensation can help to pay for things like end of life medical treatment and burial expenses. An experienced personal injury lawyer can fight for the compensation you deserve. Contact Fox, Farley, Willis & Burnette today to schedule a free case evaluation.
Note: This post was written based on available resources, news stories, and online reports about this incident. As is often the case with fast breaking news, there is always the risk that some details are still being shared and uncovered. Please contact us if you notice any information that should be changed or added. Thanks!