How Far Will a Nursing Home to Cover Up Evidence of Patient Abuse?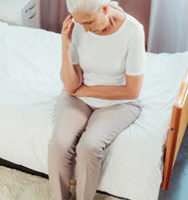 Nursing home abuse is often difficult to detect. For one thing, the victims are nursing home residents whose physical or mental condition renders them unable to speak up in their own defense. And many nursing home administrators go to extraordinary lengths to conceal abuses from the patient's families.
Nursing Home Claimed "Privilege" Over Efforts to Pressure Employee into Lying
Indeed, sometimes these efforts extend into questionable litigation tactics. Consider this recent case before the Tennessee Court of Appeals, Reynolds v. Gray Medical Investors, LLC. The plaintiff in this case is the estate of a woman who died while in the care of the defendants' nursing home in Washington County, Tennessee.
The lawsuit alleges the victim's death was the direct result of injuries sustained "in a fall, or several falls" at the nursing home. During pretrial discovery, a certified nursing assistant testified in a deposition that she personally provided care to the victim. The nursing assistant said that two of the defendant's employees, including one of her supervisors, actively "intimidated and coerced her to change a written statement" during a meeting discussing the victim's death. Specifically, management wanted the nursing assistant to alter the recorded time of one of the victim's falls to make it appear "closer in time to a first fall." This, in turn, would support the defense's position that the falls happened too close together for the nursing home staff to "take corrective action."
The defense moved to exclude the nursing assistant's testimony regarding these conversations because they allegedly occurred during a "quality improvement committee" or QIC meeting. A QIC is essentially a peer-review committee convened by a hospital, nursing home, or other healthcare organization to conduct a review of an adverse event that affects patient care. Under Tennessee law, the "[r]ecords of a QIC," including any "testimony or statements by a healthcare organization's" staff to a QIC is legally privileged, meaning it cannot be used as evidence "in any judicial or administrative proceeding."
The trial court agreed with the defense that the nursing assistant's conversations with management fell under the QIC privilege. The Court of Appeals strongly disagreed: "We cannot accept that it was the intent of our General Assembly to allow healthcare providers to use a QIC meeting as a shield to commit such acts as suborning perjury and then hide or cover up those bad acts by claiming peer review privilege."
To be clear, most of what goes on during a QIC meeting is still privileged. But in this particular case, the nursing assistant claims she was pressured to lie and falsify documents. The Court of Appeals said such threats and coercion are not protected by privilege.
Speak with a Tennessee Nursing Home Abuse Lawyer Today
The Court of Appeals' ruling is a victory for patients as well as common sense. A nursing home should not be allowed to undermine the legal system by demanding its own employees cover up the truth. If you, or a family member, have suffered abuse at the hands of a nursing home and need legal advice from a qualified Knoxville personal injury lawyer, contact Fox, Farley, Willis & Burnette, Attorneys at Law, today.
Source:
tncourts.gov/sites/default/files/mark_reynolds_as_administrator_of_the_estate_of_carol_ann_reynolds_v._gray_medical_investors_llc._et_al..pdf
https://www.foxandfarleylaw.com/tennessee-court-of-appeals-tosses-28m-punitive-damage-award-in-fatal-nursing-home-neglect-case/