Hiker Injured in Carter County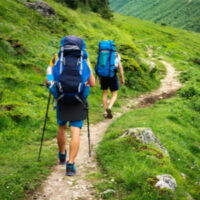 Carter County, TN (October 18, 2020) The Carter County Rescue Squad responded to a call on October 18th involving two hikers in the Big Laurel Branch Wilderness area. The accident left the two hikers without a trail approximately 15 miles from the edge of the water. Fortunately, a rescue square was able to use the hikers' cellphone pings to determine their location. At least one of the hikers was injured.
A 2020 study found that falls are responsible for approximately 50% of all fatal as well as non-fatal accidents that occur during mountain hiking. Tennessee is known for its scenic outdoors, and understandably many people engage in hiking in the state each year. Despite the precautions that hikers take, it is important to remember that accidents can still occur. While it is easy to feel powerless if you've been injured in a hiking accident, it is important to remember that the owners of the lands where hiking occurs have an obligation to maintain and upkeep the area so safe hiking can occur. While some hiking accidents occur because hikers make mistakes, other accidents occur due to poorly maintained property. For example, a park worker or maintenance crew might leave equipment on a path on which a hiker then falls and is injured.
Contact a Personal Injury Attorney                 
If you or a loved one was injured or killed while hiking or engaging in any other activity in Tennessee and someone else was responsible for the accident, you should not hesitate to speak with a knowledgeable accident attorney. A lawyer at Fox, Farley, Willis & Burnette will remain committed to fighting for the compensation you deserve. Contact our law office today for assistance.
Note: This post was written based on available resources, news stories, and online reports about this incident. As is often the case with fast breaking news, there is always the risk that some details are still being shared and uncovered. Please contact us if you notice any information that should be changed or added. Thanks!