Highway Workers Respond to Single Vehicle Accident at 315 Mile Marker on Interstate 40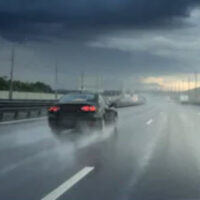 Cumberland, TN (August 13, 2020) The Tennessee Highway Patrol responded to a single vehicle accident in Cumberland County on the afternoon of August 13th. Law enforcement states that a 2014 Dodge Ram was traveling east at the 315 mile marker when the driver lost control of his vehicle during a heavy rainstorm. This loss of control led to the driver's vehicle leaving the road and striking a tree. Fortunately, the driver was wearing a seatbelt and not injured. The accident is one of seven that occurred along Interstate 40 on August 13th due to the heavy rains.
The Insurance Information Institute reports that in 2017, there were 2,455 deadly accidents in which the collision with shrubbery or trees was the first harmful event. Rain is also a factor that results in many deadly car accidents. 
How Rain Leads to Car Accidents 
Adverse weather conditions are a common cause of many car accidents and rain is the primary cause of a large number of these incidents. There are several reasons why rain makes it dangerous to operate a motor vehicle, which include:
Wet roads are frequently slippery, which can reduce tire traction and cause vehicles to slide
Rain decreases driver visibility which makes it difficult to see a driver's surroundings
Many people are not accustomed to driving in the rain and not sure how to respond if their vehicle hydroplanes
 Speak with a Tennessee Car Accident Attorney 
If you or a loved one has been injured in a car accident in Knoxville or any other part of Tennessee, one of the best steps that you can take is to retain the assistance of an experienced lawyer. Do not hesitate to contact Fox, Farley, Willis & Burnette today.
Note: This post was written based on available resources, news stories, and online reports about this incident. As is often the case with fast breaking news, there is always the risk that some details are still being shared and uncovered. Please contact us if you notice any information that should be changed or added. Thanks!