Head-On Collision Occurs in Cumberland County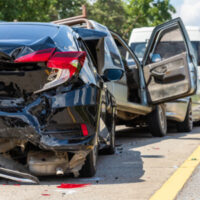 Cumberland County, TN (December 19, 2020) A crash occurred on December 19th on Highway 127 North in Cumberland County a short distance north of the Woody community that left two injured and killed another. Law enforcement states that the driver of a Lincoln Towncar crossed over the centerline and ended up colliding head-on with an approaching Ford van. The
Lincoln's driver needed to be extricated from the vehicle and was transported by ambulance to Cumberland Medical Center where she passed away soon after from her injuries. The Ford driver as well as her son were transported by air to a nearby trauma center for treatment.
The Insurance Information Institute has found that head-on collisions were responsible for 3,471 fatalities in 2017. A much larger number of motorists is injured each year as a result of head-on collisions. Some of the most common reasons why head-on collisions occur include intoxicated drivers, fatigued drivers, adverse weather conditions, distracted driving, motorists who are not familiar with the location, and debris that causes drivers to swerve into another lane.
Do Not Hesitate to Speak with an Experienced Accident Attorney
Due to the force involved, head-on collisions often result in serious injuries, extensive property damage, and sometimes even fatalities. While it can be difficult to decide how to respond after a Tennessee car crash, remember that an experienced attorney can help you pursue the compensation you deserve. Contact Fox, Farley, Willis & Burnette today to schedule a free case evaluation and so our legal team can begin fighting for the results you deserve.
Note: This post was written based on available resources, news stories, and online reports about this incident. As is often the case with fast breaking news, there is always the risk that some details are still being shared and uncovered. Please contact us if you notice any information that should be changed or added. Thanks!