Greenville Motorist Charged with Road Rage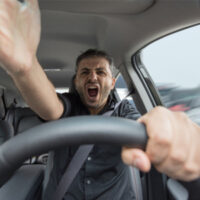 Washington County, TN (December 13, 2020) A man in Greeneville was involved in a road rage incident on the evening of December 13th and has since been charged with assault by Johnson City law enforcement. The driver was then held on a $5,000 bond before his first scheduled appearance in Washington County General Sessions Court.                 
The incident was discovered after Johnson City law enforcement responded to the intersection of Franklin Road and West Market Street concerning an assault. An investigation revealed that the man had pulled his path into the path of the victim's vehicle. The man is then reported to have exited his vehicle before assaulting the victim as well as damaging the victim's vehicle. The alleged victim got out of the vehicle and tried to prevent the man from leaving, at which point the man revved his engine and drove towards the victim.
Aggressive driving plays a role in road rage accidents as well as many other deadly highway collisions each year. A 2009 study by the American Automobile Association and reviewed by the Insurance Information Institute found that aggressive driving played a role in 56 percent of deadly crashes from 2003 to 2007. 
Do Not Hesitate to Speak with a Road Rage Attorney                 
Road rage accidents are frightening and can result in damage of which the ramifications a victim ends up facing for the rest of their life. If you or a loved one has been harmed as a result of a road rage incident that occurred on Tennessee roads, you should not hesitate to speak with a personal injury attorney. At Fox, Farley, Willis & Burnette, our lawyers will remain committed to fighting for the results you deserve. Contact our law office today and during a free case evaluation we can discuss your available options to pursue compensation.
Note: This post was written based on available resources, news stories, and online reports about this incident. As is often the case with fast breaking news, there is always the risk that some details are still being shared and uncovered. Please contact us if you notice any information that should be changed or added. Thanks!